Book A Beach Paradise Experience Through The Spanish Virgin Islands
Only 6 miles east of Puerto Rico lies another remarkable Caribbean beauty. The Spanish Virgin Islands, one of the most appealing destinations to relax and enjoy an exclusive experience.
Your picture perfect vacation is to last forever in your memory and heart. Listen to the calming seas while you get a beautiful tan. Spectacular views high above the seaside villages or swimming freely in The Spanish Virgin Islands tempting sky-blue waters. Nature calls your name in this amazing yacht tour!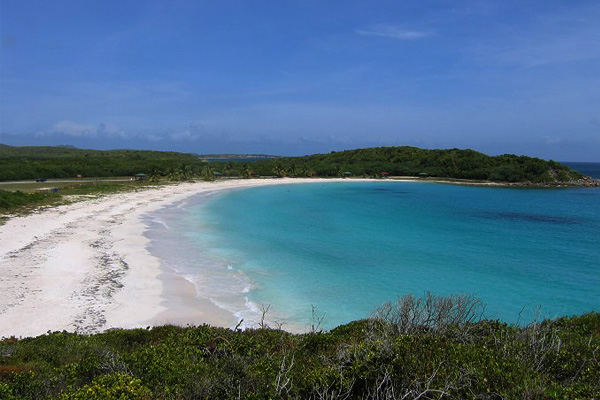 Yacht Journey Through The Mesmerizing Spanish Virgin Islands
We will take you to many places through the pristine and unspoiled islands, with vast and deserted white sandy beaches. Transparent and lively turquoise blue waters, where you will delight your eyes watching the intact healthy reefs, teeming with fish, coral, and crustaceans.
This is a perfect destination to spend a good time sailing on a private yacht, where the only thing you have to worry about is to decide where to go first.
You can explore natural wonders in many beautiful spots around the islands of Culebra and Vieques. Isla Palominos is the perfect place to watch the sunset, one of the most romantic and gorgeous moments you can add to your to-do list.
Reserve a First Class Yacht
Charter Puerto Rico is your safe and unforgettably luxurious yacht experience. We always stand out due to our commitment to customers satisfaction and meticulous quality standards.  Being the best private yacht services in San Juan is our main goal, and delivering an unforgettable experience is the final outcome.
A team of professionals is looking forward to meeting your most demanding requests, and can adapt to any occasion and celebration to create the perfect memories, on board!

The Spanish Virgin Islands luxury charter yacht trip is waiting for you! Charter Puerto Rico in San Juan, Puerto Rico will be an extraordinary moment in your life. Book your getaway with one of our associates today!